AQI Training & Workshops for RID CEU Opportunities


AQI Services offers a list of workshop opportunities for American Sign Language (ASL) interpreters and Deaf community members.


Legal Interpreting Training: Live Mock Courtroom Experience

Advanced Medical Interpreting

Educational Interpreting

Performing Arts

Behavioral Health

Self Defense & Active Shooter Response Training

Community Emergency Response Team (CERT) Training

and more….

The list of workshops is on the right sidebar and below; click there!

Should you be interested in being added to our mailing list for updates about our training & workshops for RID CEU Opportunities, please email us at
training@aqiservices.com
.



ZOOM!

There's No Sign for That! & There's No Word for That!

Thursday, December 7, 2023
6:30 PM Eastern Time - 9:30 PM Eastern Time
RID PS CEUs 0.3

Some Content Knowledge Level for Pre-Certified Interpreters and Working Interpreters

This virtual workshop will be conducted 100% in American Sign Language. No Voice Interpretation will be provided.




Click below to purchase tickets through the registration form.

$75 Interpreter Rate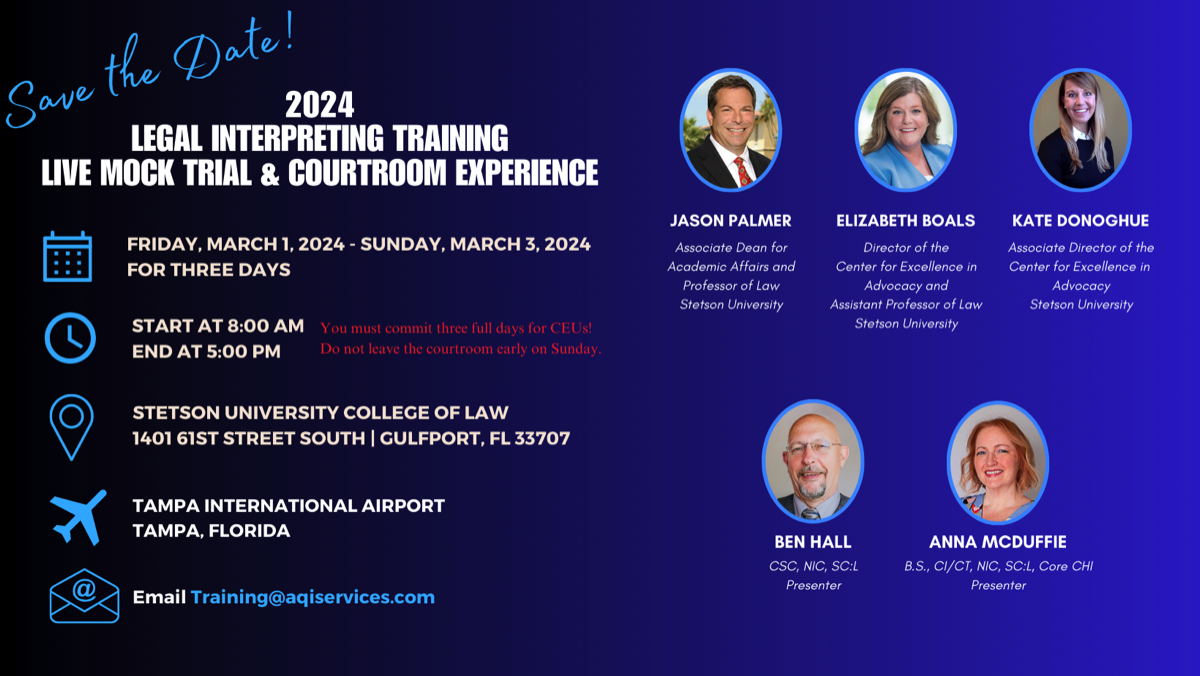 Registration details will be released when it becomes available. Please bear with us. Thank you.

For more information about Legal Training, please click here.




AQI Virtual workshops will not be recorded for later viewing. We do not keep archived videos for later viewing. We do not offer live-streamed videos.
This will be no exception!


RID Sponsored Workshops is an Approved RID CMP Sponsor for continuing education activities. This General Studies or Professional Studies program is offered for CEUs for American Sign Language (ASL) interpreters.

Non-Discrimination Statement: AQI Services promotes a learning environment of mutual respect free of discrimination based on gender, sexual orientation, race, religion, or any other protected class.